Salubrity Pharma In Vietnam Trade Counsellor Conference 2018
February 26, 2018
Posted by:

adminsalubrity

Category:

Company activities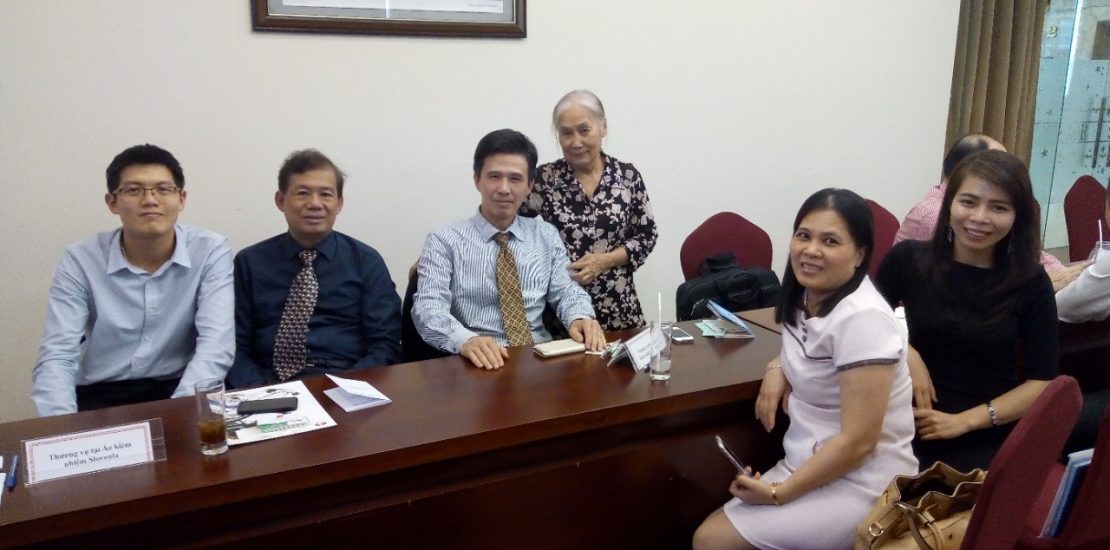 Hello everybody!
On February 26th Salubrity Pharma pvt ltd and many enterprises had gathered in Commercial Counsellors' Conference in Hochiminh city held by Vietnam Ministry of Foreign Affair. This annual conference was attended by Vietnamese counsellors from 57 trade offices and seven branches abroad together with representatives from ministries of Vietnam.
The country's import-export turnover reached US$425 billion in 2017, a positive outcome significantly aided by Vietnamese trade offices abroad, adding that Viet Nam had 21 products with more than $1 billion export turnover and many others worth tens of billions of dollars. The Government is setting export-turnover targets for key commodities, such as rice, shrimp, medicine, vegetables and fruit. This is why it wants to hear proposals of counsellors to promote the trade.
Mr. Tran Quoc Khanh, deputy minister of Industry and Trade has urged trade counsellors to assist domestic businesses by providing information about foreign markets, promoting trade and investment activities, and increasing sales of Vietnamese products abroad. The DM told of trade counsellors in the US and Japan who had good relationships with authorities in foreign countries who not only had knowledge of their legal systems, but were also active in resolving trade barriers. He said that the most difficult issue for domestic production was marketing. This was the reason trade counsellors should act as a bridge connecting local firms with new export markets.
The DM asked the Ministry of Industry and Trade to reward trade offices and commercial counsellors who actively contributed to promoting exports of staples, such as shrimp, mango, dragon fruit, lychee, star apple, longan and chicken to the Asian market. The current stage of socio-economic development, economic diplomacy needed due attention so trade offices must have an important role in Vietnamese embassies abroad. He requested trade counsellors to do their utmost to help realize the country's trade turnover of $500 billion in 2018. The counsellors should take the success of businesses as measurement of their operational efficiency.
According to the ministry, trade offices abroad carried out over 500 trade-promotion activities in 2016-17 to help domestic and foreign companies update regulations on import-export and trade connectivity. They also actively worked with the Department of Trade Defence to deal with trade-defence measures, such as anti-dumping and anti-subsidy, applied by countries importing Vietnamese goods. The trade offices provided information and handled 12 anti-dumping cases in 2016 and 13 more in 2017.
In foreign markets where Viet Nam has a trade deficit, trade counsellors should strive to make exports higher than imports, paying attention to barriers for exports. The counsellors should have a deep understanding on international commitments that affect Viet Nam.
Hochiminh city and its businesses want to take part in trade fairs to promote its key products like seafood and rice, so trade counsellors and trade offices should evaluate trade fairs to tell businesses which ones they should participate in. The Ministry of Industry and Trade should organize seminars and conferences to enable businesses to understand more about CO (certificate of origin) and consumer habits in foreign markets. The city was focusing on developing infrastructure and logistics, and trade counsellors should help find investors in those sectors.
Vietnamese exports to the market have increased significantly but still remain low compared to potential. Vietnamese businesses need to focus on improving product quality, diversifying export items, increasing export of value-added products and building brands for their products. The conference was followed by a direct meeting between businesses and trade counsellors in the EU, Americans, Asia and Africa markets.